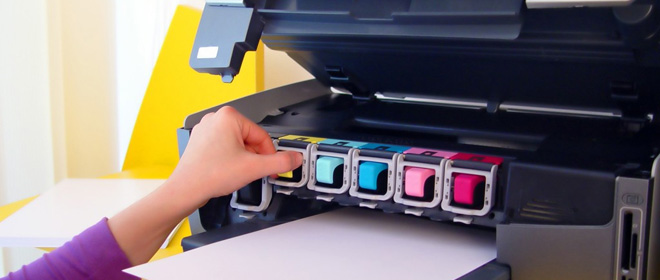 No operational component of a business should be accepted without due consideration. Nonetheless, print management is an area that isn't considered as carefully as it should be, especially for large organizations that rack up thousands of dollars in printing costs per quarter. As a result, the question of whether you should outsource your printing jobs or manage them in-house remains unresolved for many businesses.
Depending on your needs, you may find that you can easily overpay for skilled professional printing when it's not necessary. However, some jobs demand a high level of print quality and are good candidates for big runs with offset printing.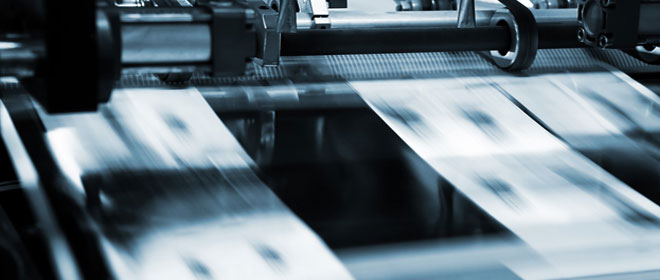 Hybrid Strategies Make Sense
In today's fast-paced business environment, it's often necessary to produce flyers, brochures, menu inserts, meeting agendas, and other printed materials—sometimes for immediate use. As a result, it's nearly impossible to operate without an office printer capable of handling everyday print jobs. Professional printing costs can spiral out of control when every single one of these documents must be scheduled and printed professionally. A recent survey revealed that about 52 percent of accountants and financial officers don't know exactly how much their companies spend on printing. However, although accurate cost analysis is important, it's only one consideration. Speed, convenience, and quality also play important roles in the decision process. As a result, a hybrid printing strategy can be effective for most businesses. Everyday printing can be handled quickly and efficiently using standard office printers, bulk paper, and standard ink. Then, when necessary, you can save on big print jobs by getting them printed on high-speed offset presses. Professional printing might also appropriate when long-lasting quality is critical. Savvy companies can develop a policy for determining how each type of print job is handled. You can decide on special jobs on a case-by-case basis to account for any extenuating circumstances or special needs.
Benefits of In-House Printing
Operating your own printers ensures that everyone can print materials as needed when deadlines are tight. Some businesses with extremely heavy printing volume or highly specialized needs will need to decide whether to designate a specific staff member to schedule and print materials for the entire office. There are many advantages to this strategy, as a trained in-house print specialist will seldom experience the common complaints of inexperienced people trying to print something quickly. The benefits of in-house printing include:
Using a print specialist, you can channel your time back to core business activities.
Finding a reliable and efficient supplier ensures that you won't run out supplies just when you need them the most.
Some businesses keep excess stock and printers in case of breakdowns, which can prevent unexpected delays.
In-house printing has lower costs for small print runs.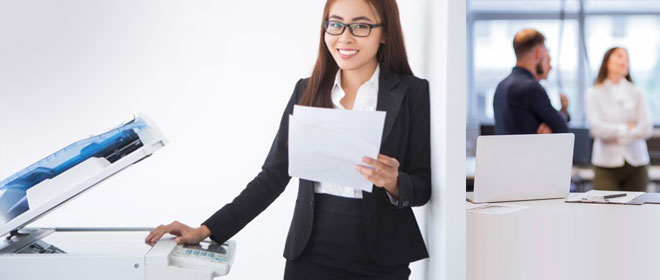 Benefits of Outsourced Printing
Professional print management offers the highest quality, regardless of the size or scale of the job. Even small runs deliver impeccable quality, and some companies have concepts and reputations of delivering only the best. A professional touch is often needed to realize these visions. You can relax and enjoy these benefits of print outsourcing, which include:
Access to the best supplies and most advanced printing technologies
A skilled team that can handle any print job
Advice on techniques, printing methods, and materials
Avoiding the hidden costs of buying and maintaining equipment
Receiving special services such as the distribution of printed materials
Matching brand colors precisely
Ability to choose the right paper for each marketing need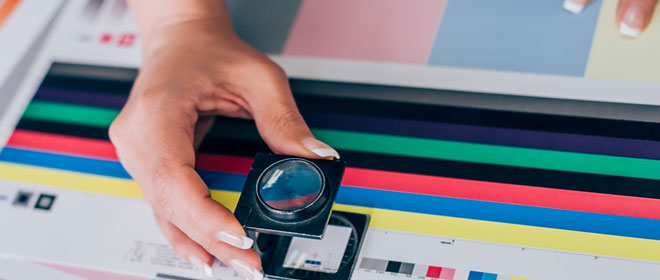 The Realities of Printing
Regardless of how you decide to handle the bulk of your printing needs, your company bears the final responsibility for any print materials used in the business. Making absolute decisions could restrict your options in various business scenarios. Using a hybrid approach ensures that you can respond to different circumstances quickly and resourcefully.
In practice, most companies outsource some of their materials to print shops. These include large-format printing like posters, high-quality brochures, photo printing where images need to be sharp, and specialty print jobs. When it comes to offset print jobs, the larger the run, the less expensive each copy costs. Consequently, in some situations involving large numbers of copies, it just makes good business sense to outsource. You can't do everything on a standard office printer, but in-house printing options are advancing every day.
Large companies can often afford to run everything in-house while delivering fantastic print quality. Few companies can get by without a printer for hard copies, printouts, and other immediate printing needs. One survey found that bringing print management in-house resulted in a 500 percent decrease in downtime. In-house techniques now include advanced variable data printing that allows companies to personalize names, addresses, phone numbers, and other predetermined fields. The resulting customization has been attributed to increased efficacy of printed marketing materials, with noticeable effects on sales figures.
You should carefully weigh the pros and cons of in-house printing and outsourced print management before deciding your company's printing workflows. In most cases, it makes sense to use a hybrid approach based on the quality and quantity of printed materials you need. After all, every business needs an immediate printing option that's quickly available in the office, and advances in print quality ensure that you can use in-house printing for more and more print jobs. Meanwhile, with a hybrid approach, you can always retain the option to outsource printing when the specs make it worthwhile to do so.