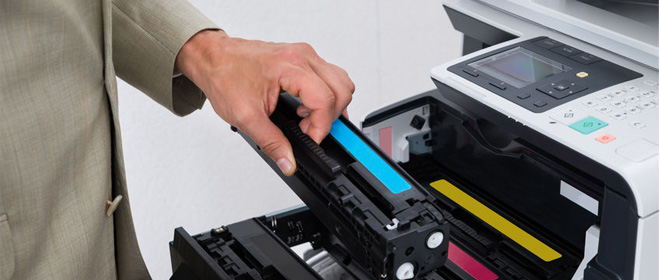 You don't have to ditch paper altogether to enjoy some of the benefits of the trend toward paperless offices. With a few simple changes to how you approach printing and copying, you can reduce waste, improve efficiency and save money on tasks still requiring paper.
1. Waste Reduction
The average office worker in the U.S. wastes about 1.5 pounds of paper every day and goes through 10,000 sheets of paper per year. A whopping 45 percent of printed pages are thrown away, and one out of every 20 printed documents gets lost. Stop contributing to the statistics and start conserving paper with these steps.
2. Choose Digital Options
With collaborative tools like Google Docs and Dropbox, you don't have to print out multiple copies of documents for everyone on a team. Changes update in real time, and there's little risk of losing information. Digital note-taking apps let you record and share details like meeting minutes instead of sending paper memos.
Try online services like Zoho, PerfectForms, and GoCanvas to create and manage forms. This helps you save some of the $120 billion U.S. companies collectively spend on paper forms destined to become outdated and get thrown away.
3. Gather Signatures Electronically
Whether you need to collect one signature or a dozen, electronic signature services from HelloSign, DocuSign and similar companies make it possible without printing a single page. Request signatures, track who has and hasn't signed, send reminders and download digital copies for your files instead of creating more paperwork. Use mobile options to handle signatures for deliveries and offsite jobs.
4. Implement a Recycling Program
Place recycling bins by printers and in other prominent places in the office to handle waste from any jobs from which you can't yet eliminate paper. Make employees aware of the option to recycle, and practice what you preach to reinforce the policy.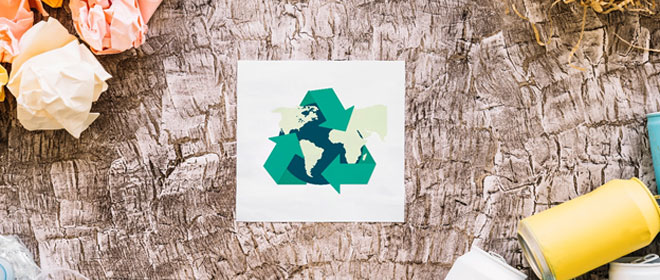 5. Double Up
Most business machines have double-sided printing or copying as an option, so there's much less of a chance of employees wasting paper by flipping sheets the wrong way by accident before printing on the other side. Set printer and copier defaults to use both sides of the page automatically, and create one-sided documents only when necessary.
6. Minimize Copier Use
Before copying a document, consider how many printouts you really need or if the information can be distributed another way. Is it necessary to provide everyone at a meeting with a copy of your presentation notes, or could you offer digital access with a file sharing service? Using a collaborative online tool cuts down on paper and gives co-workers the option to add notes or annotations in real time.
7. Scan Everything
Use a high-quality scanner to convert your paper files to digital documents. With optical character recognition (OCR) technology, you can extract text from images and have editable versions of the forms and files requiring occasional updates. This eliminates the need to throw out or destroy old files and print fresh copies when new information is added. Digitized files are also less vulnerable to damage from natural disasters and fires, but it's smart to run routine backups for all data to protect against loss from other unexpected events.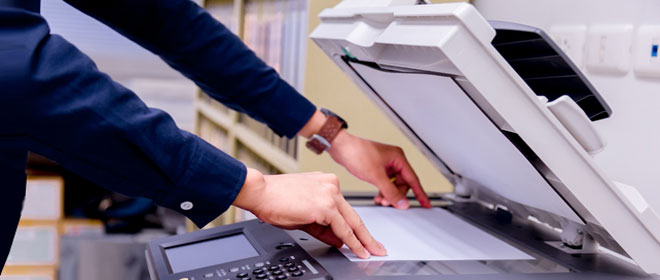 8. Maximizing Efficiency
Implementing energy- and resource-efficient practices in your office reduce the amount of power, paper, ink and even time used for print jobs. Increasing efficiency minimizes the impact of your business on the environment and helps you get more done every day. You don't have to change much to start operating a more productive workplace.
9. Get the Best Printer for the Job
Business printers are available in inkjet and laser models with different printing speeds and features. Laser printers are still the best for frequent large print jobs, but if you run a small business or have reduced the amount of printing necessary for daily tasks, an inkjet model may be a better option. Consider printer features in light of the number of pages you typically print and the types of paper used most often, and choose a model designed for fast, high-quality output.
10. Minimize Ink Usage
Look for ink-conserving settings on printers and copiers, such as draft, ink saver or toner saver. These settings are configured to cut down on the amount of ink and toner used for typical printouts and copies and don't have a significant impact on quality. Using high-yield cartridges in conjunction with these settings cuts down on waste from frequent cartridge replacements. Save money on color cartridges by printing only in black and white or grayscale as often as possible, and consider switching to a lighter or thinner default font for printed documents.
11. Power Down
Configure all the printers and copiers in your office to power down when not in use. Some machines, such as those with EnergyStar labels, are designed to go into low-power mode when idle automatically. If the office is going to be closed for a prolonged period, consider shutting down all equipment. You'll not only conserve energy but also save money on your utility bills.
12. Control Print Access
Thirty percent of print jobs sit forgotten at the printer and wind up getting thrown away or recycled. However, when employees can see how much paper they're using, they're more likely to think twice before clicking the "print" button. Implement these changes to make your staff accountable for their paper use:
Use managed print services to track print activities
Establish printer policies to manage amounts and types of printing for employees and departments
Use virtual queues so that employees need to be at the printer to print and retrieve documents
For these methods to be successful, everyone in the office must be on board. Inform your staff of new policies and protocols for printing, and explain the benefits of the changes being made. Once everyone starts to implement practices for reducing waste and increasing efficiency, you'll begin to see the cumulative positive effects small changes can have on the way your business operates.