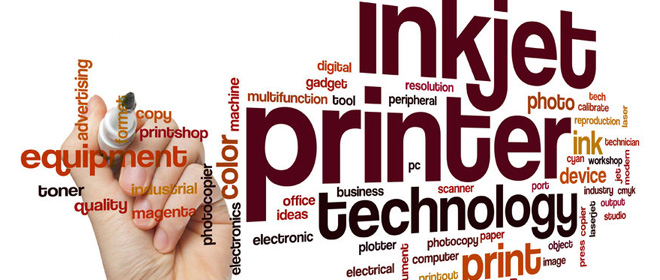 For most businesses, buying a printer for the office is much different than buying a printer for home use. Even a small business usually requires a more sophisticated type of printer that can supply them with the efficiency levels they require to keep the business running effectively. This post is intended to serve as a buyer's guide for anyone beginning their search for the perfect office printer. This guide will walk you through the things you need to know about printers for business use, as well as the considerations that you should make before choosing your office printer. We hope you find this guide comprehensive and useful in determining the best fit for your office printing needs.
The Most Important Question to Consider before Printer Shopping
Before you start looking at features, prices, and specs, there is one key element that you need to consider which will outweigh all else: how much do you print?
Why is this so important? Because most manufacturers rank their printers based on their ability to keep up with a specific monthly printing volume. This isn't the speed at which the printer is capable of printing, but rather the number of pages your business prints each month.
If you aren't sure of this, an excellent way to verify this information is to determine how much paper your business goes through on a monthly basis. Looking at your invoices might be helpful for this.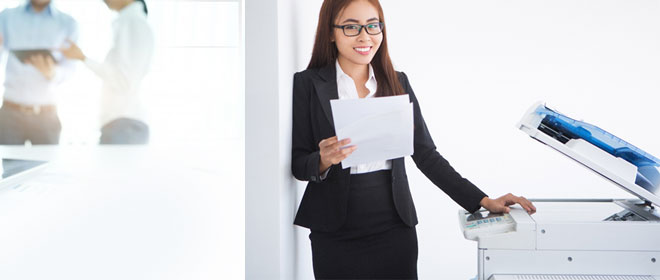 Networked Printers
Unless you are a sole proprietor or freelancer working alone, your office will likely require a printer that can be shared across numerous different users. Although there is an option to purchase every employee an individual printer for their desk, printer sharing is the more economical way to go.
Also, network-enabled printers generally allow for faster printing speeds and provide a range of advanced features. Many of these printers can also perform functions such as scanning, copying, email, and fax. This multi-functionality not only saves the business money but can help to improve overall office efficiency by limiting the number of machines your employees have to interact with throughout their workday.
Choosing the Right Type of Printer
Laser Printers
Laser printers, along with LED printers, are quite popular among business offices due to their reliability and fast speed. These printers are also capable of producing high-quality text, due to their specialized mechanism and use of light to transfer the images onto paper. Some downsides to using this type of printer in certain office environments—especially ones which do high-volume printing—are that the toner cartridges can be quite expensive and need to be replaced regularly. Additionally, these printers are also quite expensive in and of themselves. It should also be noted here that these types of printers are less than ideal when it comes to photo printing.
Inkjet Printer
When most people think of inkjet printers, they likely imagine those which are intended for personal and home use. However, inkjet printers can also be quite beneficial in many business and office environments. Businesses will find this type of printer most useful if they print a lot of photographs at high resolution, including items such as brochures, flyers, and other graphics. These printers can also print on a range of different types of paper and other media. It should be noted here that although these printers are significantly less expensive than their laser counterparts, it can be a bit difficult to find inkjet printers that handle networking capabilities. Additionally, inkjet printers require the ink to be replaced more frequently than a laser printer, and this can become costly for businesses that do a lot of high-volume printing.
Solid Ink Printers, Snapshot Printers, and Dye-Sublimation
Although a bit less commonly known, these other types of printers are highly beneficial to companies who have more specialized printing needs. Let's take a look at these printers and what they offer.
Solid ink printers provide similar benefits to laser printers; however, they produce an excellent color quality to which laser printers could never compare. Do keep in mind however that these types of printers are small, prone to smudging, and have fewer market options available.
Snapshot printers are only capable of printing photographs but can do so at a much higher quality than other types of printers. Such printers would be beneficial to any businesses which frequently perform this type of printing. Dye sublimation printers also produce high-quality photographic images; however, they use a different medium, referred to as heat transferred dye. These are the ideal types of printers for businesses that work in graphic design and rely heavily on outstanding image quality. However, these printers are quite expensive to operate, typically costing two dollars per page or higher.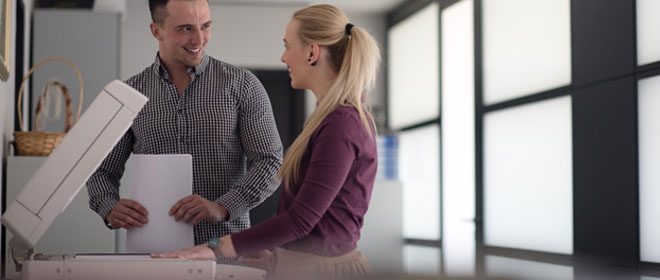 To Be Wired, or Not to Be Wired: That Is the Question
Another aspect to keep in mind when choosing a project for your business is whether you want to opt for a wireless or wired printer. Although wireless printers are quite common in households today, they're not always necessarily ideal for business use. This is because wireless printers tend to be less reliable, slower, and less secure than wired printers. Since these elements are critical to the business functioning efficiently, most businesses tend to opt for a wired printer. If you want the best of both worlds, it may be of value to you to look into printers that support cloud printing capabilities, even if they are wired printers.
Other Features to Consider
Below is a list of other features that you should consider before choosing the right printer for your business:
#1: Single Function or Multifunctional Printers
Single function printers are only capable of printing, but multifunctional printers can handle a range of other tasks as well. This includes advanced printing, scanning, copying, sending emails, and more. A multifunctional machine can spare you the cost of having to purchase multiple pieces of equipment, but they are more costly than single-function printers, and employees will have to take longer turns to perform multiple jobs. You may find lines at the printer if you opt for one of these and have a larger office.
#2: Printing Speed and Volume
For most offices, printers with speeds of less than 20 pages per minute would not be up to par. Instead, businesses typically look for printers that can print at a speed of 20 to 40 pages per minute; businesses with even higher printing volume needs may require printer speeds above 40 pages per minute for ideal efficiency. Some of the fastest printers can print up to 100 pages per minute. You also want to look at how much paper your printer can hold. Standard printer models hold anywhere from 100 to 250 pages, while more sophisticated printers can hold between 500 and 2,000.
#3: Looking at Memory
Most offices will require printing memory that ranges between 64 MB and 256 MB of RAM. Some models allow businesses to add extra memory as well.